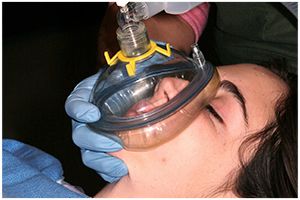 Anesthesia, Sedation and General Anesthesia
Modern anesthesia techniques now make it possible to effectively perform intricate surgery in an office facility with no discomfort. During your surgical procedures local anesthesia is administered to block pain sensation. With some procedures, due to anxiety or due to the extent or difficulty of the surgery, the patient might require intravenous (IV) sedation or general anesthesia. These adjunctive anesthetic procedures are quite common in our specialty. The sedative and anesthetic medications are typically given either intravenously and/or by gas (inhalation). Since the effects are rapid by these means of administration, the doctor can precisely give the correct amounts. Most medications have a rapid onset and are removed by the body quickly allowing for a speedy recovery making them quite safe.

During the anesthesia procedure, patients are monitored and evaluated with various monitors throughout the procedure to ensure their safety. These monitors are the same types of monitors as those used in the hospital operating rooms. These include, automatic blood pressure, electrical heart monitoring (ECG), blood oxygenation (pulse oximetry), precordial stethoscope, carbon dioxide monitor (capnograph) for respiration as well as temperature monitoring. The doctor along with two other trained professional staff members will always be with you closely observing and monitoring you throughout your treatment.

The use of anesthesia, sedation and general anesthesia administered by maxillofacial surgeons, has an impressive and commendable record of safety. This is due to the advanced training in anesthesia the surgeons have had as part of their residency training, the diligence in thoroughly screening patient during consultation and their insistent, meticulous, continuous monitoring of patients during these procedures. Dr. Marcos Díaz has been providing anesthesia for over twenty years.

In the State of Florida, a special general anesthesia permit is required to administer general anesthesia. In order to obtain this permit, Dr. Díaz has had to meet requirements of having completed advanced training in general anesthesia, has had to take specialized courses in advanced cardiac life support (ACLS) and live, life-threatening, anesthetic emergencies simulation that include human manikins (Sim-Man™) as well as having to attend many continuing education courses and workshops in general anesthesia. Our Center was not only built with all the operating room physical requirements and monitors just like a hospital, but has also had to undergo regular, facility-site visit evaluations by the State of Florida every five years to meet strict office-based anesthesia requirement standards. In addition, the ability to handle emergency situations as well as having specific emergency medications and equipment are mandatory. Our office personnel undergoes anesthetic complication drills regularly as part of our course of action to maintain our standards of excellence. At AACOMS, we are committed to the task of making your treatment safe and more pleasant through a variety of readily available advanced pain and anxiety control techniques.