Stem Cell Harvesting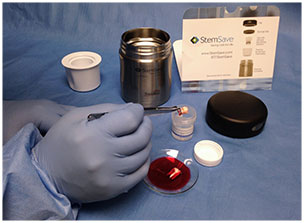 Stem cells are found throughout in the whole body. While stem cells can be found in most tissues of the body, they are few in number, usually buried deep, and are similar in appearance to surrounding cells. These cells are specialized cells that are generally used by the body to orchestrate and drive the natural healing process through a person's life. Stem cells are different than any other type of cell because these are immature form of cells that through a process called differentiation they transform, regenerate, renew themselves and produce other types of specialized tissue cells forming the different types of tissue the body has. They maintain, heal and restore tissue like bone, skin, cartilage, muscle, nerves and many other types of tissue as well.

There are two (2) types of stem cells: embryonic and adult. The embryonic stem cells harvesting, which comes from umbilical cord tissue-blood and human embryos, is a highly controversial topic, and therefore we do not employ this method of harvest or use. In comparison, the adult stem cells, or somatic stem cells as they are also known, are relatively rare, undifferentiated cells found in many organs and body tissues with a limited capacity for both self renewal and differentiation. Not only do these cells vary in their differentiation capacity, but they are usually limited to cell types in the organ(s) of their origin.

Today, stem cells have been used in treatment of more than eighty (80) diseases, and are being evaluated for a myriad of new and ever-arising treatment options. Current treatments and potential applications of stem cells include: acute and chronic leukemias, Hodgkin & Non-Hodgkin's lymphoma, myelodysplastic syndromes, thalassemia, aplastic anemia, sickle cell disease, chronic granulomatous disease, severe combined immunodeficiency disorder, graft versus host disease (GvHD), traumatic brain, spinal cord and lung injury, Parkinson's Disease, Alzheimer's Disease, stroke, rheumatoid arthritis, multiple sclerosis, cerebral palsy, as well as many inherited genetic disorders or conditions like Krabbe Disease (globoid cell leukodystrophy), Hurler Syndrome (mucopolysaccharidosis type I), peripheral artery occlusive disease, liver disease, bone, heart repair and wound healing.

With the discovery of stem cells in teeth, an available and accessible source of stem cells has been identified. Teeth are one of the most abundant and easily accessible sources for stem cells in your whole body. Nature's way of preserving valuable stem cells can be found in the pulp of teeth, the "living" part of the tooth. There is an abundance of these cells in baby teeth, wisdom teeth and permanent teeth. ( Adult Stem Cell Eligibility Criteria.) At the time of a planned dental procedure stem cells contained within teeth can be readily recovered.

The stem cells obtained from teeth have been observed in research studies to be among the most powerful stem cells in the human body. Stem cells from teeth replicate at a faster rate and for a longer period of time than do stem cells harvested from other tissues of the body. In the human body, stem cells age over time and later in life their regenerative abilities slow down. The earlier in life that your stem cells are secured, the more valuable they will be when they are needed the most. While the potential uses of stem cells are still being developed and understood, there is now a way to preserve and safeguard your stem cells as a sort of "insurance policy" with StemSave™ our stem cell harvest and transport system. Our Center provides this service at no charge to you, although an account has to be established with StemSave™ prior to any harvesting.

Teeth extractions provide perfect opportunities to bank your stem cells with the StemSave™ recovery and transport system which is a simple process of safely harvesting and nourishing stem cells while they are being rushed to the lab for processing. When your tooth arrives, cells are removed from the tooth, and the viability of the cells is tested. If the cells are viable and healthy, they will be cryogenically preserved, stored and monitored. In case there are no viable stem cells present in the tissue submitted, StemSave™ will not only inform everyone, but you will not be charged for any of the shipping and processing of this tissue. You can rest assured knowing your vital stem cells are safe, preserved and ready if you need them.